FPT On-road N45 series
The NEF series showcases FPT Industrial's technological excellence.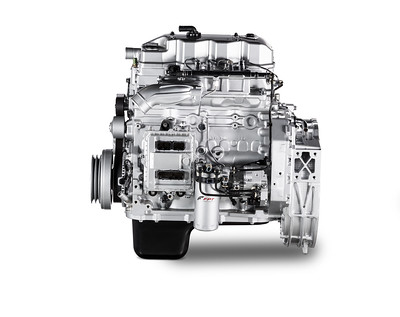 Compliant with Euro VI step D standards, it is a compact, costeffective solution for 6-18 tons trucks and buses and coaches up to 18 meters. Available in 4 and 6 cylinders, with diesel common rail or CNG/LNG multipoint injection, it stands out for reliability. Thanks to research-driven innovation that has cut down fuel consumption while ensuring impressive performance, these engines are the benchmark in their category.
HIGH RELIABILITY
LOW RUNNING COSTS
EXCLUSIVE SCR-ONLY ATS SOLUTION
COMPACT INSTALLATION
118 - 137 - 152 kW

Emissions: Euro VI A/C

Truck

118 - 137 kW

Emissions: Euro VI A/C

Bus


The NEF Series is the most compact, efficient and cost-effective engine solution in the 6 to 18 tons truck, bus and coach category. Developed with TCO in mind, NEF engines are designed for maximum durability, long maintenance intervals and reduced fuel consumption. Their excellence is proven by more than 1.3 million units produced since 2001. Beside road transport, they cover applications such as agriculture, construction, industrial, marine and power generation – and this is the best proof of their reliability and versatility. NEF engines come in 4- and 6-cylinder configurations, with displacements ranging from 4.5 t​o 6.7 liters. NEF 60 is also offered in natural gas version.
​All NEF engines can be customized with optional types of oil sump, transmission, radiator, air filter and muffler. Special arrangements are provided on demand for compressor, air conditioning compressor and steering pump.

PRODUCTIVITY & EFFICIENCY
Thanks to latest-generation Common Rail injection, waste-gate turbocharger and no-EGR architecture, NEF engines ensure optimal combustion efficiency – resulting in low fuel consumption and high performance. The regeneration-free HI-eSCR system avoids unplanned stops (especially in indoor, sensible environments).

RELIABILITY & SERVICEABILITY
Up to 80.000 km oil change intervals allow a substantial reduction in downtime and fluid cost. The FPT Industrial-patented HI-eSCR system makes regeneration unnecessary, so reducing thermal stress and maintenance needs.
COMPACTNESS
Both NEF engines and the HI-eSCR system are characterized by compact and lightweight design. Our EGR-free technology requires less cooling power (and thus a smaller cooling package size), also simplifying vehicle application. In order to further facilitate installation, a wide choice of customized after-treatment layouts is available.
EMISSION AFTER-TREATMENT
Our exclusive HI-eSCR after-treatment system represents a "fit & forget" solution that ensures best durability and lowest operating costs. This technology relies on long-standing and proven SCR experience, based on more than 650,000 units produced by FPT Industrial since 2005.